Home
Features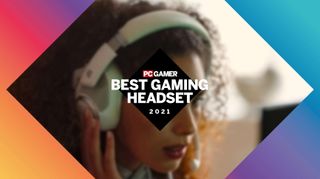 (Image credit: Future)
Quality audio is an underrated commodity in PC gaming, yet it's so fundamental to a great gaming experience. Take Hunt: Showdown, for example, probably the most competitive game I play. If you don't have your audio game turned up to 11, you'll probably miss an all-important audio cue and by blasted to smithereens before long. It's pretty cutthroat like that, and all the more reason to get yourself a pair of quality cans.
The three gaming headsets released this year that we deem worthy of your setup are listed below, as these are the headsets that rose to the top in our testing. Each one brings something to the table—be that bang for your buck, useful features, or simply excellent sound quality. Each one is comfortable enough to wear for an extended gaming session, as that's something we just can't compromise on.
But only one can be named champion and take home the coveted PC Gamer Hardware Award. Here are the three best gaming headset nominees in all their glory. 
Best gaming headset 2021: the nominees 
Those are the three nominees, and the best, as decided by PC Gamer's editors, will be decided on New Year's Day. Stay tuned for that.
Jacob earned his first byline writing for his own tech blog from his hometown in Wales in 2017. From there, he graduated to professionally breaking things at PCGamesN, where he would later win command of the kit cupboard as hardware editor. Nowadays, as senior hardware editor at PC Gamer, he spends his days reporting on the latest developments in the technology and gaming industry. When he's not writing about GPUs and CPUs, you'll find him trying to get as far away from the modern world as possible by wild camping.