Home
Features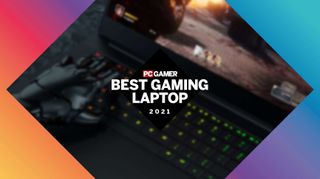 (Image credit: Future)
Luscious, high-end gaming laptops have been on each and every techies mind this year. Aside from a buying a prebuilt gaming PC, bagging a gaming laptop has been one of the only ways to get your hands on a current-gen GPU in this time of woeful silicon shortages, and subsequent GPU stock deficits. Frankly, it's been a PC builder's worst nightmare.
In light of this calamity, laptops have become a stalwart salvation for us gamers. Especially since the escalation of this wary work-from-home exodus, laptops are becoming more sought after than ever before. And since we, as hardware enthusiasts and avid gamers, are rather particular about what we need for both work and home, we're happy to say laptops are finally hitting the mark.
There's still some work to be done around battery life, and the portability vs. power dilemma, but there are at least three gaming laptops from this year—the one's we're nominating here—that tick almost all the boxes.
The Asus ROG Flow X13, with it's XG Mobile eGPU, has finally provided a viable workaround for one of the most infuriating barriers regarding the use of an external GPU. The Razer Blade 14 brought powerful Ryzen gaming to one of the sleekest, most desirable laptop designs yet. And the Gigabyte Aorus 15G XC manages to balance the raw power of the RTX 3070 with a well-rounded, non-titanic, and rather quiet chassis.
But which will take the crown as the best gaming laptop of 2021?
Best gaming laptop 2021: the nominees 
Insert quote here
The winner of the PC Gamer Hardware Award for the best gaming laptop will be announced on New Year's Eve. It's all to play for, and any one of these three is completely deserving of the crown.
Screw sports, Katie would rather watch Intel, AMD and Nvidia go at it. She can often be found admiring AI advancements, sighing over semiconductors, or gawping at the latest GPU upgrades. She's been obsessed with computers and graphics since she was small, and took Game Art and Design up to Masters level at uni. Her thirst for absurd Raspberry Pi projects will never be sated, and she will stop at nothing to spread internet safety awareness—down with the hackers.