Cal Kestis and crew have been called back up for Star Wars Jedi: Survivor. Electronic Arts had been referencing plans for a Fallen Order sequel since 2021 and, as of the Star Wars Celebration event in May 2022, has put an official name and year on Respawn's solid Sekiro-like.
While details are still a little thin on the ground, we do know that Survivor will be a direct sequel to Fallen Order, following Cal and pals just a few years after the events of the first game. Here's everything we know so far about Respawn's plans for Jedi: Survivor.
What is the Jedi: Survivor release date? 
Star Wars Jedi: Survivor is launching in 2023, Electronic Arts announced along with the initial reveal trailer. We don't know anything more specific than the year yet. With how many games are still getting delayed this year, maybe don't get attached to that just yet either. 
Check out the first Jedi: Survivor trailer
The first teaser trailer for Jedi: Survivor doesn't give too much away, but Cal and BD are certainly still prominent. A  Pau'an character, possibly chief Jedi-hunter The Grand Inquisitor, shows up to deliver a threatening voice over: "Tell me, Cal Kestis. Why lead when they won't follow? Why fight when you can't win?"
Beyond that, we get a quick shot of his ship the Mantis crashed on a desert planet, Cal crossing sabers with a hooded Sith, and a mysterious figure in an abandoned bacta tank.
Who is developing Jedi: Survivor? 
One of the few details we do have on the sequel is that Respawn Entertainment (developers of the first game and Battle Royale cash-cow Apex Legends) will be heading up production of the Fallen Order sequel and a new Star Wars FPS. Respawn is also assisting new studio Bit Reactor on development of a new Star Wars strategy game.
Director Stig Asmussen is heading up Survivor. He was in charge of the first game, and a long time ago at a studio far, far away, he was director on several God Of War games. Respawn is currently hiring to fill out its teams for these and other projects.
When and where will Jedi: Fallen Order 2 be set? 
Welcome to the conjecture zone! We've got a lot of ideas, but not much evidence. So, we know that the first Fallen Order takes place 14 years before the Battle of Yavin (the attack on the first Death Star), and shortly after that spot of nastiness with all the clone troopers and the Jedi. 
The very short summary that EA has given so far lets on that the sequel takes place five years later. "Cal must stay one step ahead of the Empire's constant pursuit as he begins to feel the weight of being one of the last remaining Jedi in the galaxy," EA says. "Accompanied by his trusty companion BD-1, Cal will meet and ally himself with an array of unique and interesting characters on his journey."
Being a devout Jedi, it wouldn't really behoove Cal and friends to head off into deep uncharted space to hide out from the Empire. It seems as solid a guess as any that they'll end up embroiled in more pre-Rebel Alliance conflicts, although nothing major enough to shake up established canon.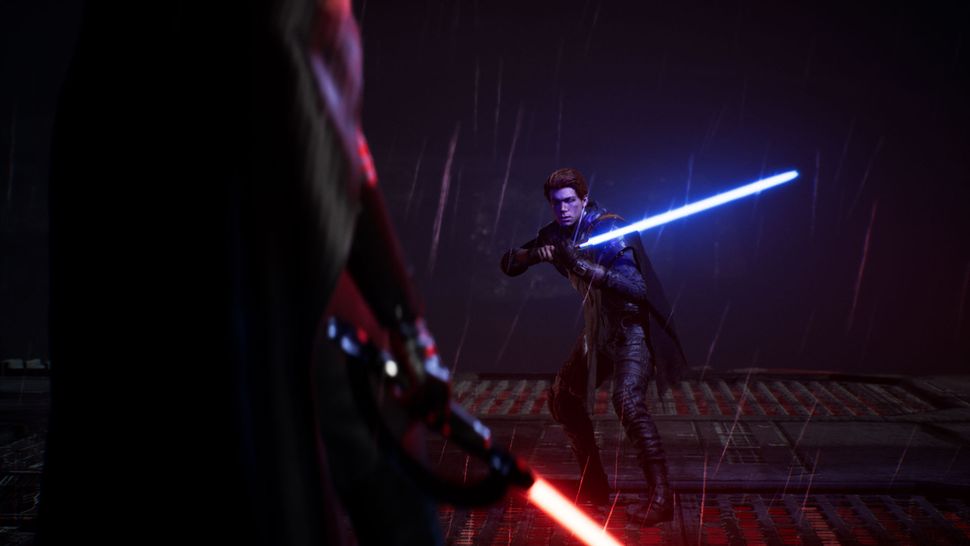 (Image credit: Respawn Entertainment)
Where could the story of Jedi: Fallen Order 2 be leading? 
Because this is a direct sequel, Survivor has a surprisingly vague trajectory set for it by the events of the first game. Disgraced young Jedi Cal Kestis has been re-knighted and reconnected to the Force, and has been set up for further adventures but with not much hint as to where they might lead.
In the finale of the first game, he leads a daring mission on an underwater Imperial fortress to recover a database of known force-sensitive children across the galaxy. Rather than put these children at further risk by recruiting them as Jedi, Cal turns his lightsaber on the Holocron containing the data, literally cutting off that story arc's potential.
This leaves us with surprisingly few plot hooks, beyond a freshly established personal beef with Darth Vader himself, who makes a brief appearance during the finale to ruin Cal's day and give him and fellow Jedi Cere a thorough beating before their narrow escape.
It's likely that we'll be following the further adventures of the Mantis crew; Cal, Cere, captain Greez and Nightsister Merrin. Further run-ins with Vader seem probable, considering that Cal sports a nice round saber hole in his chest after his previous round with the Sith heavyweight. I feel it'd be a disappointing dramatic arc if they never crossed sabers again.